How to Set Up a VPN (Virtual Private Network) Connection
Posted: Tuesday, August 11th, 2015 by Daniel Apana
PC – Windows 7
Step 1 Click the Start button. In the search bar, type VPN and then select Set up a virtual private network (VPN) connection.
Step 2 Enter the IP address or domain name of the server to which you want to connect. If you're connecting to a work network, your IT administrator can provide the best address.
Step 3 If you want to set up the connection, but not connect, select Don't connect now; otherwise, leave it blank and click Next.
Step 4 On this next screen, you can either put in your username and password, or leave it blank. You'll be prompted for it again on the actual connection. Click Connect.
Step 5 To connect, click on the Windows network logo on the lower-right part of your screen; then select Connect under VPN Connection.
Step 6 In the Connect VPN Connection box, enter the appropriate domain and your log-in credentials; then click Connect.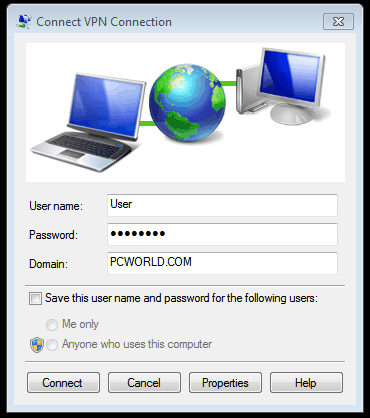 Step 7 If you can't connect, the problem could be due to the server configuration. (There are different types of VPN.) Check with your network administrator to see what kind is in use–such as PPTP–then, on the Connect VPN Connection screen, select Properties.
Step 8 Navigate to the Security tab and select the specific Type of VPN from the drop-down list. You may also have to unselect Include Windows logon domainunder the Options tab. Then click OK andConnect.
PC – Windows 8 and 8.1
Connecting to a VPN is a similar process in Windows 8. Press the Windows key, type VPN, click the Settings category, and select the same Set up a virtual private network (VPN) connection option as in Windows 7.
You'll see the same VPN connection window on the desktop. Enter the address and name of your VPN.
You'll then see the Networks pane appear. Select the VPN you added and click Connect.
Enter the username and password credentials your VPN requires and you can connect to the VPN.
To access the Network pane in the future, click the network icon in the system tray or open the charms bar, select Settings, and select Network.
To connect or disconnect from a VPN, select it in the Network pane and use the Connect or Disconnect buttons.
PC – Windows 10
Connecting to a VPN is a similar process in Windows 10. Start by pressing the Windows Key on your keyboard, and typing in VPN and choose "Change virtual private networks (VPN)"
Then choose "Add a VPN connection"
Fill out the information with your company's VPN information (this is attainable from your IT department if you don't know it)
Click Save and your new VPN will appear. From here, you can click on it, then "Connect" or close the dialog box, and press the network icon and then the VPN connection. Once connected, a small "Connected" indicator underneath the VPN name will appear.